Free 21st Birthday Speeches -
Celebrate in Style


Free 21st birthday speeches - celebrate this magical milestone in style.
Less can sometimes be more - especially at a 21st birthday party where speeches have the potential to overwhelm the occasion.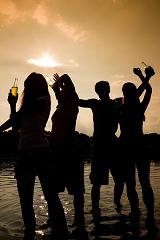 Free 21st Birthday Speeches
A meaningful 21st birthday speech to honor and celebrate a great day is a necessity. But, let's face it, everyone wants to party!
And why not - champagne, flowers, innovative 21st birthday gift ideas to surprise your friends and loved ones , excellent catering and creative decor design -  they all come together to create a night to remember.
So, keep it short and simple - then let the party begin!
---
Good evening Ladies, Gentlemen, family and friends -
What a truly special evening it is that we are celebrating this evening - an evening all the more special  because we are sharing this celebration with all of you.
A warm welcome to everyone and thank you so much for sharing [insert name]'s 21st birthday with us tonight. It just wouldn't have been the same without all of you - all the people who have played such an amazing role in [his / her] life.
Tonight is [insert name] night and we hope it will be a night that [he / she] remembers fondly in the years ahead.
Twenty one years have seen [insert name ] through many milestones. We've seen [his /her] baby years turning into toddling years. We've seen [insert name] learning to talk and walk - unsteadily at first but growing in confidence daily.
And those determined  footsteps have continued through elementary and secondary school,  through sporting teams and academic achievements. We seen obstacles overcome and accolades accomplished and we've witnessed such remarkable growth and development in every facet of [insert name] life.  *[highlight some of their achievements here to make your speech personal and meaningful]
Daily, incrementally and exponentially,  we've seen [insert name] walking steadfast and purposefully through tears and laughter, in and out of relationships and onwards towards [his / her] goals still to be achieved.
Through all of these magical milestone [insert name] has remained positive and empathetic.  [He / She]  embodies a passion and zest for life that is infectious and we have all shared in these moments - they have been magical and many and everyday!
What an honor and a privilege it has been to witness this amazing young [man / lady] and their journey  towards adulthood. And tonight, [insert name] as you stand on the brink of a new chapter in your life, please know that we are so incredibly proud of you and we love you.
May you continue to walk as sure-footed as you always have, may you remain as grounded as you have always been...and may you stay in mind and spirit, forever young .
Happy birthday!
---
Free 21st birthday speeches - done and dusted.
Now get to work on buying or making an incredible dress or tuxedo for that million dollar babe[or dude]look and planning a great party with easy party ideas and games - your complete guide to the perfect party or birthday with fun games, themes, invitations, recipes and more!
Let's not forget an amazing birthday cake and candles. All about Cupcakes has creative and innovative ideas to further enhance what is going to be a very special evening.
Return from Free 21st Birthday Speeches to Words of Wisdom

40th Birthday Speech - Flaunting Fabulous Forties

Birthday Card Sayings - Congratulate and Celebrate

Birthday Wishes Sample - Fellowship and Celebratory Words

Funny Birthday Sayings - Congratulations... Subtle And Tasteful Humor

Birthday Phrases - Here's To A Great Day

Free Birthday Speech - Creating Carefree Celebrations

Happy Birthday Quotes - Famous Words Of Wisdom