Thank You Speech -
Always Appreciated


A thank you speech and heartfelt words in a note can mean so much. Everyone values being thanked and we all enjoy feeling appreciated.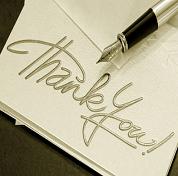 A thank you note can take just a moment of your time, yet it can brighten the recipient's day immeasurably!
Take a moment to read through the words of wisdom and gratitude, personalize them and then buy or even make your own thank you card.
Hand write your special message - a beautiful handwritten card remains a special gesture and one that is sure to be appreciated.
Dear____________
A special word of thanks I have to say,
your thoughtful, kind gesture certainly made my day.
Our days tend to be frenetic - always rushing around
Yet you searched till the perfect gift you found.
I appreciate, as always, you going the extra mile
unwrapping your gift, brightened my day and made me smile
So in my thoughts you will continue to be,
I so appreciate that you took the time to remember me.
Love,
____________________
---
Words of gratitude in a card can also be read out loud at a special function - especially if you have the odd butterfly flying around in your stomach.
It is perfectly acceptable, especially if you are feeling a bit emotional, to preface your speech with something like: " May I take the opportunity to read you the words of thanks that I wrote in my card."
Return from Thank You Speech to Words of Wisdom

Sample Thank You to Adapt for All Occasions

Thank You Poems To Teachers - Thanks For Making A Difference

Quotes To Say Thank You - Thoughtfulness Appreciated

Thank You Pastor Poems - Spiritual Leadership Appreciated

Thank You In Spanish - Take The Time...Show You Care

Thank You Card Poems - Simple, Heartfelt Thanks

Thank You Letters After Interview - Seal The Deal

Poems To Say Thank You - Personalized Thank You Cards To Adapt