Preschool Graduation Poem -
Let's Hear It For The Little Guys


Preschool graduation poem? The final touch to a kindergarten graduation speech, a congratulatory graduation banner or even as part of a graduation song!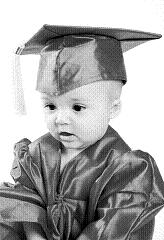 Ok - so you've organized the graduation flowers, the graduation invites have been posted or emailed and the graduation photocards have been ticked off the graduation checklist!
Now's the time to focus on writing and presenting a great graduation speech with one or two good quotes for graduation speeches.
Don't forget to polish your welcome address and possibly incorporate our free welcome speeches and their words of wisdom into the graduation ceremony program.
QUOTES OR POEMS ON GRADUATION
Today is your special graduation day,
 So, we have all come together to say,
Well done - we really couldn't feel any prouder,
You are all superstars and we're happy to say it even louder!
We wish you love and hope ... the courage to stand tall,
May your days be bright and happy as we look back and recall,
How you have grown and played and loved and learned ...
 Your place at today's graduation ceremony? Definitely well-earned!
So, today boys and girls give yourself a pat on the back,
At your graduation you are now on the fast-track,
To lifelong learning, education and success,
And in the years ahead we're sure you'll continue to impress!
---
Our preschool poems for graduation can easily be included in a free farewell speech for any graduation occasion - simply change the vocabulary to suit the age and composition of your audience.
Return From Preschool Graduation Poem To Words Of Wisdom
Free Graduation Speeches And Words Of Wisdom That Inspire