Good Quotes for Graduation Speeches -
Graduation Congratulations
Good quotes for graduation speeches can be used as central themes. These great quotes can be used as a framework to help you shape your speech. You can include them in graduation cards and  in an emailed graduation congratulations message.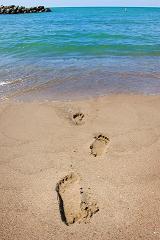 There are so many great graduation quotes. Choose a quote that is meaningful and positive and one that leaves the audience with a memorable message -  excellent frameworks  for free graduation speeches.
Climb high; climb far; your goal the sky; your aim the stars - inscription at Williams College
---
One important key to success is self-confidence and an important key to self-confidence is preparation
Complete mental and physical preparation has to do with sacrifice and self-discipline
And that comes from within - Arthur Ashe
---
One man with courage makes a majority - Andrew Jackson
---
There is no chance, no destiny, no fate that can circumvent or hinder or control the firm resolve of a determined soul - Ella Wheeler Wilcox
---
The person who goes furthest is generally the one who is willing to do and dare - Dale Carnegie
---
You have within you right now, everything you need to deal with whatever the world can throw at you - Brian Tracy
---
Victories often occur after you see no way to succeed, but refuse to give up anyway - Dave Weinbaum
---
My father gave me the greatest gift anyone could give another person, he believed in me - Jim Valvano
---
The superior man is modest in his speech, but exceeds in his actions - Confucius
---
I do not know the key to success, but the key to failure is trying to please everybody - Bill Cosby
---
If you are going to achieve excellence in big things, you develop the matter in little matters.
Excellence is not an exception - it is a prevailing attitude - Colin Powell
---
Use every obstacle you face as a stepping stone to move closer to the life you desire. The more stones you have, the closer you are to your goal - Unknown
---
Good quotes for graduation speeches will help you create an amazing theme based address - simple but meaningful advice for the future.
Return from Good Quotes for Graduation Speeches to Words of Wisdom

Return From Good Quotes for Graduation Speeches to Free Graduation Speeches