50th Anniversary Toast - Commemorating Lasting Commitment
50th anniversary toast - it's time to celebrate and honor a remarkable milestone ... 50 golden years spent together and a lifetime of memories shared!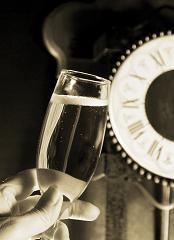 A 50th wedding anniversary toast pays tribute to a rare and incredibly special achievement - so you need to find the words of wisdom that will celebrate and commemorate this magical milestone.
Anniversary flowers are amazing, personalized anniversary gift baskets will definitely bring a smile to the happy couple's faces and a great anniversary band may just see the anniversary couple dancing the night away. The tone has been set - now end the evening on a high note! 
Our free toasts and anniversary sayings are sure to give you the inspiration you need -  and why not throw in a few love quotes along the way?
WEDDING ANNIVERSARY TOAST
Anniversaries are without a doubt occasions to cherish and celebrate ...
and none more so than a 50th wedding anniversary.
Today we commemorate and pay tribute to two incredibly special people.
[insert names of the anniversary couple] -
We are both humbled and awe-struck as we share your 50th anniversary with you tonight.
Your relationship exemplifies all that is good in a marriage.
You lived, loved and left an indelible legacy - a shining light for us to follow.
We continue to be humbled by your devotion to each other,
 and inspired by your courageous love and ongoing commitment.
Please stand and join me in a toast to [insert names of anniversary couple] -
May your love continue to uplift you,
May you remain forever blessed within your marriage
and may you always love unequivocally!
To ......
---
50th anniversary toast ... a perfect ending to free anniversary speeches!
You may want to have a look at our quotes to say thank you - perfect for heartfelt thanks as the evening comes to a close.
Return From 50th Anniversary Toast To Words Of Wisdom
Wedding Anniversary Verses To Celebrate Your Magical Day