Love Quotes Valentines Day -
Find The Words To Say It Best


Love quotes Valentines Day - you love that special person? Well, you have to let them know with valentines day ideas!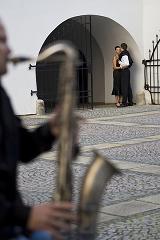 Cute valentine poems and love poems for Valentines Day will help you to say those all important words of love with passion and purpose ... perfectly.
Free Valentine greetings and you're ready to celebrate your love ... of course valentine flowers are an added bonus.
In fact the love quotes for Valentines Day can be used as words of wisdom for one year anniversary poems or even for a wedding anniversary.
I love you, not only for what you are,
But for what I am when I am with you.
Roy Croft
---
Within you I lose myself,
Without you ...
I find myself wanting to become lost again.
Unknown
---
Love is composed of a single soul,
inhabiting two bodies.
Aristotle
---
Sometimes your nearness takes my breath away;
and all the things I want to say can find no voice.
Then in silence, I can only hope ...
my eyes will speak my heart.
Robert Sexton
---
Love is the emblem of eternity:
it confounds all notion of time;
effaces all memory of; a beginning,
all fear of an end.
Germaine De Stael
---
Love does not make the world go round -
Love is what makes the ride worthwhile.
Elizabeth Browning
---
What I feel for you seems less of earth,
and more of a cloudless heaven.
Victor Hugo
---
In my wildest dreams you always play the hero.
In my darkest hour of night, you rescue me - you save my life!
Bliss and Cerney
---
I love her ...
and that's the beginning of everything!
F.Scott Fitzgerald
---
See, there is this place in me where your fingerprints still rest,
your kisses still linger,
and your whispers softly echo.
It's the place where a part of you ...
will forever be a part of me.
Gretchen Kemp
---
Somewhere there's someone who dreams of your smile....
Unknown
---
To be your friend was all I ever wanted;
to be your lover was all I ever dreamed.
Unknown
---
Kiss me and you will see stars;
love me and I will give them to you.
Unknown
---
If I could reach up and hold a star for every time you made me smile,
I would have the whole night sky  ...
in the palm of my hand.
Unknown
---
Love quotes Valentines Day ... find the words that speak to your heart, and be creative with your Valentine's gift ideas.
Hey - don't forget to read up on some Valentines Day fun facts.
Return From Love Quotes Valentines Day To Words Of Wisdom

Free Sample Speeches For All Occasions - Father's Day Poem