One Year Anniversary Poems -
Affection, Love And Romance


One year anniversary poems - there's something really special about your first anniversary, isn't there? An amazing feeling well worth celebrating - so do it in style!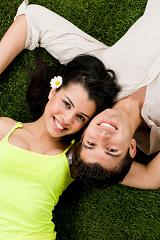 You need a happy anniversary poem to celebrate your wedding anniversary with style, eloquence and love.
Don't worry if you're looking for funny anniversary poems that are a little more light hearted ... we've got great ideas to help you out.
Happy Anniversary - here's wishing you a magical day full of smiles, laughter and of course - lots and lots of love.
One amazing year together we have shared
Never before magical moments forever captured -
Entwined our lives have become as we look together ... ahead.
Your love has surrounded me ...
Enduring, uplifting and compelling for all to see -
Adored, accepted and carefree - forever may we always be.
Raindrops and rainbows - yes, we've shared them all ...
Awe and anger ... dawn, dusk and nightfall -
Yet no moments of regret - only a celebration and appreciation of all.
And so today, I thank you for all your love ...
I cherish your affection, your caress and the security around me that you wove -
Valentine - you're my champion, my lover, my friend - an arrow in my heart you drove.
Elusive love we've been blessed to find ...
Recollection of a magical year now behind -
Strong and sure - together may the happy memories continue to bind.
Happy Anniversary - my love.
---
One year anniversary poems - we hope it's given you some good ideas for your recollections of the past year?
Need free anniversary speeches? Then look no further - save yourself some time and then you can focus on all the romance of your one year anniversary.
Return from One Year Anniversary Poems to Words of Wisdom

Wedding Anniversary Verses to Celebrate your Magical Day