Free Tips On Public Speaking -
Coordinate Color and Clothing Criteria


Free tips on public speaking - guidelines to create a first impression that reels your audience in and keeps their attention focused on you and your speech.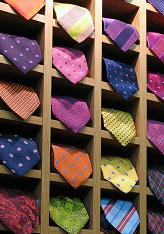 Effective public speaking is enhanced by a professional and polished appearance. You must "look the part".
Lee Mildon says, "People seldom notice old clothes if you wear a big smile
We say...wear a big smile [an important aspect of non-verbal communication] and look fantastic.
FREE PUBLIC SPEAKING RESOURCES
CHOOSE YOUR CLOTHES CAREFULLY
Event - Classroom, Clubhouse or Confetti
The event or occasion of your key note address will determine the clothing choices that would be most appropriate.
Your attire needs to be more formal if you are presenting a high school graduation address, perhaps sportswear for a tennis clubhouse speech and possibly formal or semi-formal for a wedding speech.
Audience - Captains, Corporation or College Graduates
Coordinate your clothing choices to coincide with the composition of your audience.
If your audience are the guests at the captain's dinner banquet, you will need to wear black tie. Should you be addressing corporate delegates at a conference, then your dress code is likely to be semi-formal or possibly business casual - the same is likely to apply to an auditorium of guests at a graduation ceremony.
| | |
| --- | --- |
| Dress Code | Code Explained |
| Sportswear | Long pants and a collared shirt [call the clubhouse prior to your speaking engagement just to be sure] |
| Casual | Tasteful jeans and long pants, smart T-shirts and sandals, shirts with or without sleeves or collar [similar to a smarter barbeque occasion] |
| Business Casual | Trousers, blouses and modest skirts are in - jeans are out. For the men - no tie required, but a collared shirt is a must. |
| Semi-Formal | For both men and women, a conservative business suit in muted colors would be appropriate. Men should wear a tie and the ladies should wear closed shoes. |
| Cocktail | Ladies - this is your opportunity to show off your little black dress with sandals. Gentlemen - formal business attire with a jacket and tie. |
| Formal | Elegant dresses or formal pants suits in a smarter fabrics for ladies with high heels [open or closed] and the gentlemen will need a dark suit with a conservative tie |
| Black Tie | This one is nice and easy. Ladies - a long dress and Gentlemen - a tuxedo. |
| White Tie | Men - long white or black tailcoats with matching trousers. Ladies - long formal evening gowns with gloves. |
---
COLOR CONNOISSEUR FOR CONVINCING COMMUNICATION
Free tips on public speaking - try to keep in mind the inherent message that may be communicated through the color choices of your clothing. These are by no means definitive, but they are definitely worth considering.
A knock out presentation will give due cognizance to effective preparation, appropriate dress code, the use of visual aids to enhance your message and effective implementation of body language and gestures.
Color Cues Considered
Top Ten in Alphabetical Order
| | |
| --- | --- |
| Color | Possible Underlying Connotation |
| black | authority, credible, power;[added bonus - slimming] |
| blue | peaceful, calm, tranquil |
| brown | dependable, solid, reliable, trustworthy |
| gray | wise, intelligent, clever, diligent |
| green | wholesome, nurturing, caring |
| pink | empathetic, compassionate, encouraging |
| purple | stylish, sophisticated, affluent, achiever |
| red | captivating, inspiring, exuberant, creative, passionate |
| white | light, uncomplicated, fresh, peaceful, cleansing |
| yellow | optimistic, charismatic, bright, encouraging, warm, energetic |
---
Free tips on public speaking - consider the above and don't forget to wear a warm inviting smile!
Return from Free Tips On Public Speaking to Words of Wisdom

Tips On Public Speaking For Effortless Presentation