Free Informative Speech -
Ready, Steady...Go!


Free informative speech - find it "write" here! Michael Johnson - what an inspirational icon for an informative speech idea.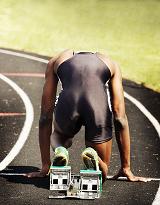 There is so much information on Michael Johnson - you can't possible include it all. So - select a facet of his life and focus on sharing his triumph and how he overcame adversity.
Not only are you sharing a great informative story - but you also leave your audience with a message to take home - now that's a double whammy! Enjoy!
FREE INFORMATIVE SPEECH SAMPLES - MICHAEL JOHNSON
Cheering crowds, standing on a podium...two gold medals at the Atlanta Olympics - Michael Johnson is quite simply one of the greatest athletes on the planet!
His place in history was sealed at the Atlanta Olympics, during which, he won a 200 and 400 meter sprint double.
No  athlete had ever won both events at Olympic level, let alone achieving the feat at the same Games.
Although he enjoyed double victory at Olympic level, Johnson had also tasted bitter disappointment. Heading into the 1992 Games in Barcelona, Johnson was the unquestionable favorite for the 200m. But he was ill in the lead up to the Games, and failed to even make the final!
Ralph Waldo Emerson said, "A hero is no braver than an ordinary man, but he is braver five minutes longer." And this is true of Michael Johnson.
In 1999, he was plagued by injury and his following season was troubled with two injury scares. But, he never gave up. He was braver and fought through the pain for five minutes longer than his competitors. He recovered! He won his fourth 400m World Champion title with a new world record of 43.18s.
Michael was also nicknamed the "Duck" for his unique running style, characterized by his head bobbing backwards and forward, the straightness of his back and very little arm drive action.
When asked by a reporter, "If you had a usual running technique like other runners, do you think  you would go faster?"
Johnson responded by saying, "If I ran like all the other runners - I would be back there with them."
Since his retirement from sports, Johnson has gone on to establish himself as a leading motivational speaker. He has been an exceptional example of how pressure can make you more focused in realizing your true potential.
Michael has been a role model for children, aspiring athletes and professionals everywhere; and his impact on the world of sport is truly remarkable.
Michael says, "Life is often compared to a marathon, but I think it is more like being a sprinter: long stretches of hard work punctuated by brief moments in which we are given the opportunity to perform at our best."
Some men are born great, some have greatness thrust upon them...and some like Michael Johnson, achieve greatness.
---
Free informative speech - absolutely!  You can even take it a step further - this free written speech would just as easily make great leadership speeches or even highlight the importance of motivation in motivational speeches.
Return from Free Informative Speech to Words of Wisdom

Return From Free Informative Speech to Informative Speech Outline