Muhammad Ali Speech -
The Greatest


A Muhammad Ali Speech - a free written commemorative speech that exemplifies man fighting against the odds, tenacity and a fighting spirit that endures.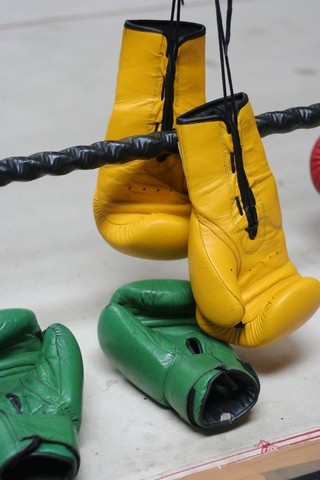 You may like to use this free example of a speech as a symbolic speech too – man against his detractors; boxing as means to fight injustice and a life less ordinary.
Remember to brush up on your tips on public speaking, present a polished performance and you will have achieved a memorable and noteworthy speech.
---
Muhammad Ali Speech
"FEARLESS is getting back up and fighting for what you want over and over again...." ― Taylor Swift
Contemporary lyrics from a popular young musician.
Yet these words on fearless fighting certainly personify Muhammad Ali's life – his enduring fighting spirit, his tenacity and determination to give never yield, his arrogant belief in himself and what he was fighting for and his fortitude to never surrender!
Yes, he was fearless. Yes, he fought over and over again for what he wanted and  … yes, he never wavered in his fearless belief in himself.
Muhammad Ali was born as Cassius Clay Jr on the 17th of January 1942. He will be remembered as one of the most remarkable American professional boxers, living up to his nickname, "The Greatest" time and time again.
And so begins his legacy … a legacy that included a World Heavy Weight Championship notched on his belt of boxing achievements when he beat Sonny Liston at the age of 22; a conversion from Christianity to the Islamic faith; a change of name; defiance in the face of conscription into the US Military through his refusal to fight in the Vietnam War; an arrest and guilty conviction for evading the draft; a boxing title stripped; a boxing license suspended and a great come back.
Muhammad Ali was fearless. He fought back from having his licence suspended, he appealed to the US Supreme Court and won his appeal to have his boxing licence reinstated he proceeded to earn his reputation as "The Greatest".
His journey to greatness, was of course, not without obstacles and adversity and he gained a fair number of detractors along the way for his arrogance and outspoken nature.
Muhammad exemplified an unconventional fighting style and he is famously quoted as saying that he  would "float like a butterfly, sting like a bee" during his fight – all part and parcel of his  firebrand pre-match swagger, where he was renowned for chirping his opponents and taunting them with his bad-mouthing antics and jibes.
But this Muhammad Ali speech commemorates instead his remarkable boxing successes.
Ali made his professional debut in 1960 and during the years from 1960 to 1963 he went on to achieve a record of 19 – 0 wins and incredibly, 15 of those bouts were won by knockouts.
His fighting prowess resulted in him becoming a top contender for Sonny Liston's title, and on the 25th of February 1964, Ali, the underdog, was to face off with Liston in Miami.
His fighting strategy? Muhammad famously boasted that he would float like a butterfly and sting like a bee – he had no intention of Liston hands getting anywhere him to even register a hit because he would be moving too fast.
And his strategy worked … clay dominated the match and he was declared the winner in the 7th round when Liston didn't respond to the bell.
Ali was rightfully proud of his win and in the post -match interview he broadcast to the world, "I shook up the world"; "I must be The Greatest!
And the greatest he may just have been:Muhammad Ali beat Joe Frazier three times, and he reclaimed his stripped title after seven years by beating George Foreman. He also had a rematch against Liston in May 1965 – Liston was knocked out.
Many of Muhammad's boxing matches coined some now very well-known catch-phrases:
"Fight of the century" – Ali and Frazier at Gardens on the 8th of March 1971. In his first professional loss, Ali was knocked out in the 15th round.
"The rumble in the jungle"saw Ali fighting the heavy weight boxing champion, George Foreman, in Kinshasa on the 30th of October 1974. The 8th round saw Foreman down and unable to make the count. Ali regained his title.
But catch phrases continued to materialize and in October 1975, Ali's third match against Joe Frazier was dubbed "The thrilla in Manilla".  It certainly lived up to its name.
In the 14th round the fight was stopped. Frazier was unable to respond to the bell and the beginning of the 15th round saw Frazier with his eyes swollen shut and his trainer throwing the towel in.
Ali grudgingly acknowledged that "it was the closest thing to dying that I know" and that Frazier is "the greatest fighter of all time – next to me!
His many accolades attest to his greatness.
In 1999 he was recognized as "Sportsman of the Century"by Sports Illustrated and the BBC honoured him with the title of being the "Sports Personality of the Century".
And all of this allegedly started because his bicycle was stolen when he was 12 years old. Ali, ready to beat up the thief was steered into boxing by a boxing coach and a police officer, Joe E Martin, with advice that he better learn to fight first.
Muhammad Ali speech - don't throw the towel in just yet. Take a look at the sample persuasive speech and informative speech outline for other free written speeches for school.

Return From Muhammad Ali Speech To Words Of Wisdom

Return From Muhammad Ali Speech To School Speech Topics