Religious Welcome Speeches -
 Invite and Encourage


Religious welcome speeches and words of wisdom, that encourage and make your congregants and visiting guests feel welcome, are an incredible introduction to set the tone for a meaningful and positive opportunity for fellowship and worship.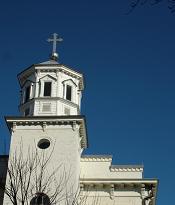 A church welcome speech need not to be very long - you need to create an atmosphere that is warm, welcoming and conducive to fellowship shared.
Our free church welcome speech is a great starting point. Religious expression tends to be quite personal - so go ahead...use it as a guideline, add a bit or change it to suit your needs. This is one speech that you can't get wrong - speak from your heart, be sincere and feel His Presence surround you.
FREE CHURCH WELCOME SPEECHES
Dear Friends, Guests, Brothers and Sisters,
May I take this opportunity to welcome you all here today on behalf of [insert name of place of worship]. 
It is wonderful, as always, to see all the familiar faces of our friends and all the special members of our congregation. I know that you all join me this morning in extending a heartfelt and sincere welcome to all our new members and any visitors who may be joining us today. Welcome one and all.
May this Ministry and its congregation offer you the opportunity to grow spiritually. We trust that the message today will uplift and encourage you as we share together in fellowship. May your burdens be lifted, may you feel comforted and as the lord reveals His plan and purpose in your lives, may you be inspired and encouraged to become active and involved in one of the many ministries that this body has to offer.
Be encouraged with God's Word:  John 15:5
"I am the Vine, you are the branches. If a man remains in Me and I in him, he will bear much fruit"
God bless you and keep you - may His light continue to shine upon you.
---
Religious welcome speeches are like welcome back to school speeches and welcome to the family speech - speak from your heart, emphasize your message with positive body language and smile so that a twinkle reaches your eyes too!
Return from Religious Welcome Speeches to Words of Wisdom