How To Grill Pork Ribs - Delicious Demonstration Directions And Details


How to grill pork ribs - a demonstration speech with a great advantage - the audience gets to taste the final product.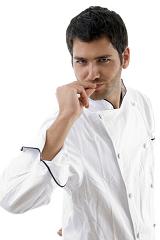 When it comes to a list of demonstration speech topics, how to grill ribs definitely merits a position way up top!
Simply, easy to prepare and difficult to "mess up".
Follow our simple steps for an effective demonstration speech, amend the speech below to exhibit your personal flair and you're done!
Sweet and sour pork ribs - grilled to perfection on a barbecue - a perfect addition to a great evening with friends and family!
Let's get started. First things first. Let's keep you in the loop with respect to time management.
You will need about 15 minutes preparation time, 2 hours marinating time and about 50 minutes set aside for cooking.
Right-time planning sorted and detailed.
Your next step will be gather all the ingredients. Pop into a market, have some fun, a quick cup of coffee and a basket full of great ingredients:
2 garlic cloves - crushed; 2 inch piece of fresh ginger root - grated; 2/3 cup of soy sauce; 2 tablespoons of sugar, 2 tablespoons of sweet sherry; 4 tablespoons of tomato paste; 10 ounces of cubed pineapples; 4 1/2 lb of pork spareribs; 3 tablespoons of honey and 10 ounces of fresh pineapple to serve.
Time planning- check. Ingredients - check. Time to roll up your sleeves, grab an apron and prepare a great companion to an excellent dinner.
Your first step is to mix the garlic, ginger, soy sauce, sugar, sherry, tomato paste and cubed pineapple together in a suitable dish.
Next - arrange the spareribs in the dish and make sure that they are coated completely with the marinade.
Cover the dish with plastic wrap and let the ribs marinate at room temperature for about 2 hours.
Prepare the barbecue and grill the ribs over medium-hot coals for 30-40 minutes, brushing with the honey after 20 -30 minutes. [Remember to keep basting the spareribs with the left over marinate.]
We're nearing the end. Cook the pineapple rings over the medium-hot coals for 10 minutes - turning them once.
Place the grilled spare ribs in a beautiful serving dish and serve immediately with the barbecued pineapple rings on the side.
---
Ok, now you know how to grill pork ribs, you've got great demonstration speeches and you can satisfy a number of grumbling stomachs.
Enjoy the presentation and the meal!
Return from How To Grill Pork Ribs to Words of Wisdom
Demonstration Speech Topics and Demonstration Speech Outline