Free CV Sample -
Demonstrate How To Write An Effective CV


Free CV Sample for your audience -  combined with your great PowerPoint Presentation that demonstrates how to write an amazing curriculum vitae! Now, that's a speech worth listening to!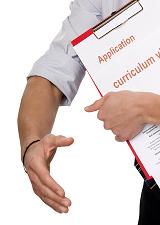 It's great when you watch a demonstration that teaches you a relevant skill and one that you will definitely use one day.
Everyone needs to be able to compile a CV - pupils, students, first time job seekers and veteran employees. So, why not demonstrate a very necessary life skill and then give them a free cv sample to take home and use.
Who knows - you may very well assist someone to find a fantastic job...what a commendable sense of satisfaction!
[Don't forget to read the tips at the end on how to use PowerPoint to demonstrate what you are saying step-by-step]
DEMONSTRATION SPEECHES - HOW TO WRITE A WINNING CV
Good Morning,
A curriculum vitae - you will definitely need one! Today, I will be demonstrating one of the acceptable and  correct formats for writing an effective cv for someone who has finished school and university and who already has some work experience.
Very briefly, your curriculum vitae should be a detailed biographical summary of you! Your cv should give the reader insight into your personal details, notable achievements, academic accomplishments and work experience.
Remember that your aim is to sell your self - honestly and with credibility.
Your first step when compiling a curriculum vitae is to brainstorm and then mind map....you and your life! Take an A4 sheet of blank paper and mind map relevant and significant points related to the following main categories: personal details, formal education, work experience, hobbies, interests and achievements.
After you have completed a brief outline -  you need to get down to the details and define the outline further. Your language should be factual and concise. Avoid flowery and emotive language.
When you structure the personal details section of your cv remember to include your surname, first name, date of birth, social security number, your home language, home address, postal address, email address and updated contact numbers.
The next step in the cv process is to add more information about  your formal education. Generally this may include the following:
high school - subjects passed and achievements
tertiary education -  details with respect to degree/ diploma obtained and core course skills covered together with notable achievements
work experience - details should answer who, what, when, where and why [ reason for leaving or wanting to move] as they relate to previous and current employment
interests, hobbies and noteworthy points - this section gives the employer insight into you as a person as opposed to a potential professional employee.
Once all of these aspects have been covered, remember to include two or three references whom your future employer can contact to confirm that you are indeed the best candidate for the job.
You final step is to sell yourself. People generally undermine their achievements. Try to see yourself objectively and highlight your strengths. The aim of a good cv is to get an interview so make it count!
---
Right - so you've taken care of the "telling" part! But it's a demonstrative speech - remember to "show" your audience what you are talking about each step of the way.
Copy and paste the free sample of a cv into a PowerPoint presentation and you're good to go!
PERSONAL PARTICULARS

SURNAME
 
FIRST NAME
 
SOCIAL SECURITY NUMBER
 
NATIONALITY
 
GENDER
 
DATE OF BIRTH
 
PLACE OF BIRTH
 
MARITAL STATUS
 
DEPENDANTS
 
LANGUAGE PROFICIENCY
 
DRIVER'S LICENSE
 
CRIMINAL RECORD
 
HEALTH
 
CONTACT NUMBER
 
EMAIL ADDRESS
 
PHYSICAL ADDRESS
 
EDUCATIONAL QUALIFICATIONS

LAST SCHOOL ATTENDED
 
HIGHEST STANDARD PASSED
 
SUBJECTS PASSED
 
EXTRA CURRICULAR ACTIVITIES
 
ACHIEVEMENTS
 
FURTHER EDUCATION

UNIVERSITY/COLLEGE ATTENDED
 
QUALIFICATION OBTAINED
 
MAJORS
 
DISTINCTIONS
 
EXTRA CURRICULAR ACTIVITIES
 
COURSES
 
[Copy and paste as many as you need for all your various educational institutions]
PROFESSIONAL EXPERIENCE

NAME OF COMPANY
 
DATE
 
MAIN JOB FUNCTIONS
 
ADMINISTRATIVE DUTIES
 
PROFESSIONAL ENRICHMENT
 
COMMITTEES
 
PROFESSIONAL RECOGNITION
 
REASON FOR LEAVING
 
[Copy and paste as many as you need for all your various places of employment]
PROFESSIONAL ENRICHMENT

COURSES ATTENDED
 
CONFERENCES ATTENDED
 
OTHER
 
COMMUNITY AND PUBLIC LIFE

NAME OF COMPANY
 
DATE
 
MAIN JOB FUNCTIONS
 
MEMBERSHIP OF PROFESSIONAL BODIES

 
 
 
 
 
 
REFERENCES

NAME AND SURNAME
 
TITLE / PORTFOLIO
 
CONTACT DETAILS
 
---
Copy a free cv sample to send home with your audience and you've just presented a great demonstration speech.
---
Return from Free CV Sample to Words of Wisdom
Demonstration Speech Topics - Follow the Simple Steps