Father of the Bride Speech - 
For A Daughter Adored


Father of the bride speech - sure you have mixed feelings on this one!
Your little girl is all grown up  - a lovely, poised young lady. But you'll always remember the little girl behind the woman, and now that same young lady is walking towards a future with her new husband.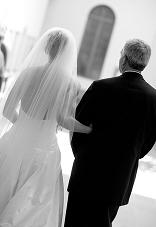 Part of you is encouraging her as she moves into a wonderful new chapter of her life...and another part is feeling those insistent little tugs at your heart strings.
Magical moments reminisced are great; cherishing memories and a bit of nostalgia - perfectly ok!
Worrying about speeches, wedding toasts - no way!
FATHER OF THE BRIDE SPEECH
A warm word of welcome to everyone who has joined us today as we celebrate [insert names of couple]'s wedding.
We appreciate  the effort that you have all taken to share this special occasion with us - especially friends and family who have had to travel far to be here today.
Our thoughts too, are with loved ones who may no longer be with us - they hold a special place in our hearts - always cherished and  remembered.
Today a journey begins, and like all journeys, it began with one tentative step - [insert name of bride]'s first step! I still recall as she stood there, arms outstretched, eager to make her way forward in the world - yet unsure. I remember feeling immense pride as she took that first step, kind of wobbly and uncertain, yet purposeful in a funny kind of way. I also remember thinking that is was a pretty defining moment as she stepped forward...starting her journey into adulthood.
And what an amazing journey it has been! We have traveled so many roads and pathways together - some easier than others, some fantastic, some tough, some a slow amble and some a determined rush. But none was more poignant than the path I walked today with [insert name of bride] - yet another defining moment in her life!
As I stood waiting for [insert name of bride] to escort her down the aisle, I felt overwhelmed with gratitude.
Gratitude that this beautiful, caring, compassionate and poised young lady is our daughter. Grateful that she is so radiantly happy on her wedding day. Grateful that we can share this day with her. Privileged to walk down the aisle next to her.  Incredibly thankful... that she is walking down the aisle, not away from us, but with us towards [insert name of groom] and his family.
We feel none of the trepidation we felt all those years ago as she started stepping out uncertainly. [Insert name of bride] is beginning yet another amazing chapter in her life. She is walking towards [insert name of groom] - our son-in-law - a wonderful husband to walk beside as they embark on their journey... their future...confident and supported by their love for each other.
Ladies and Gentlemen, please join me as we stand to drink a toast to [insert names of couple] - the bride and the groom:
May you walk forever beside each other ;
May the up-hills and obstacles be few and far between;
May your future be bright with dreams shared and problems halved;
May your days mostly be filled with love, laughter and smiles:
May you walk together...beside one another...always.
To [insert name of couple]!
---
Dad, you're going to be be great!
Adapt and edit the father of the bride speech as needed - then relax and be there to make your daughter's special day memorable and magical!
Return from Father Of The Bride Speech to Words of Wisdom

Free Best Man Speeches