We'll Help You Find The Words
To Say It Best!


You are a public speaker.
You present speeches almost every day of your life in your own unique way
You may speak formally to a large audience or informally at a meeting or social gathering.
Either way, first impressions count.
Create an impression that is credible, memorable and professional.
FIND THE WORDS - HOW TO SAY IT BEST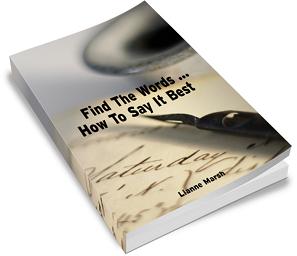 "Find The Words - How To Say It Best"
 Maximize Your Public Speaking Potential!
PRICE:  $5.99
Clicking the link below takes you to a secure page where you can pay for the ebook and receive instructions on how to download it.
CLICK HERE TO PURCHASE YOUR EBOOK 

---
Your time is valuable.
Is today's frenetic pace of life constantly encroaching on your ever dwindling time?
Are committed to improving your public speaking and general presentation skills?
Do you never seem to have the luxury of enough time or internet cap to fully explore www.find-the-words.com for free written speeches and invaluable public speaking tips?
Do you find it difficult to find just the right words to "say it best"?
Then "Find The Words - How To Say It Best" is the ebook for you!
---
If you have answered yes to any of these questions, then you may just be feeling like so many of my other visitors and readers!
I have been (and continue to be), inundated with requests from so many www.find-the-words.com visitors for ebooks. They just don't have the time to take full advantage of my website.
(Well, there are over 175 pages of speeches and tips and techniques!)
---
I am proud to introduce "Find The Words - How To Say It Best".
Our first 64 page ebook that can simply be downloaded from a pdf file and then saved on to your computer indefinitely.
All you need is Adobe Acrobat, Microsoft Word and a few minutes download time - and you'll have a permanent ready-to-use reference tool for the whole family whenever you need it.
---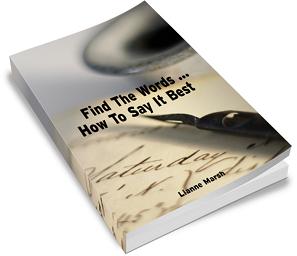 "Find The Words - How To Say It Best" consolidates:
practical and effective public speaking techniques
tips and guidelines to enhance effective communication skills
templates for introducing  yourself and other speakers
free written welcome speeches and speech templates to adapt and personalize -  setting the tone for your speech presentation
free sample thank you speeches and universal generic templates - ending your speech presentation off on a memorable note
---
Take a look at the Table of Contents for more details:
Part One - Speaking Skills
Chapter 1    Public Speaking An Indispensable Skill
Chapter 2    Introduce yourself Make An Impact
Chapter 3    Effective non-Verbal communication
Chapter 4    Preparing and Presenting A Toast
Chapter 5    Guidelines For Incorporating Humor
Chapter 7    Public Speaking Evaluation Forms
Chapter 8    Forearmed and Forewarned
Chapter 9    Effective Speech Preparation
Chapter 10  Speech Introductions Get It Right
Chapter 11  Types of Speeches Making It Simpler   
---
Part Two - Words Of Welcome
Chapter 13  Welcoming Wizard Whiz     
Chapter 14  Welcome Speech Template   
Chapter 15  Religious Welcome Speech   
Chapter 16  Church Welcome Speech   
Chapter 17  Welcome Extended And Embraced  
Chapter 19  Welcoming Teaching Words   
Chapter 20  A Welcome Poem   
Chapter 21  Welcome To A New Year   
Chapter 22  Welcome To The Family 
---
Part Three - Words Of Thanks
Chapter 23  Universal Thank You Speech   
Chapter 24  Poems To Personalize And Adapt 
Chapter 25  Quotes To Say Thank You 
Chapter 26  Thank You Card Poems 
Chapter 27  Thank You In Spanish 
Chapter 28  Thank You After Interview
Chapter 29  Thank You Pastor 
Chapter 30  Thank You Teachers 
Chapter 31  Thank You For The Gift 
---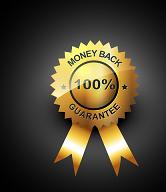 If you decide that the ebook is not what you need, then you have my guarantee, backed by ClickBank, the online distributor, that you will receive your money back, if you ask within 8 weeks.
You are of course more than welcome to contact me for any further comments, requests or suggestions.
Best of luck for any future speaking presentations.
Contact Form:


Return From Find The Words - How To Say It Best To Words Of Wisdom